Product passports make your sweater, chair, or coffee maker circular
08.12.2021
Your clothes and everyday things will soon be getting their own passports. But why? Today, huge amounts of data about us are collected via the digital devices we use. Gadgets and products, on the other hand, carry almost no data at all. This makes maintenance, reuse, repair, and recycling more difficult. Antrop is currently working on a project where we are exploring so-called product passports as a solution.
Through the Nordic network LOOP, Antrop has explored circular opportunities in several different industries – such as textile, e-commerce, and furniture. A recurring need is the availability of product information throughout the value chain, ie between all actors involved in the product's life cycle. From manufacturing all the way to the customer, reuse, and recycling – such as producers, retailers, consumers, or repairers.
A system for tracking products through the value chain
Antrop is now exploring a solution to the problem of missing information through the value chain – digital product passports, also called traceability systems or a circular ID. The topic of digital product passports is hot. Sweden's first action plan for a more circular economy proposes a passport for products, and this spring the EU is expected to make proposals on what a digital product passport should contain
"The product passport has the potential of making it easier for people to make real and informed sustainable choices, along the value chain and as consumers." – Maria Klint, circular service designer at Antrop
Enabling circular furniture flows
The Swedish furniture industry has decided to jointly take the step of exploring what a product passport for increased circularity mirht look like. Together with the research institutions Chalmers Industriteknik and Rise, Antrop has recently started the project: "Product pass as an enabler for circular furniture flows" which runs over 2 years and has been granted support from Vinnova.
The goal of the project is to create one or more product passports that will be tested in real life. In addition to creating user-friendly solutions for sharing the information, the project will also explore the type of additional information that can make the development of circular business models and services possible.
Digitalization is a key to product passports
Digitalization and data sharing provide the conditions for taking a leap in the development of circular flows. In a system where information accompanies the furniture, garment, and other goods, several actors can contribute to the product's many and long lives.
Electronics project – an inspiring forerunner in product development
An inspiring precursor to the product passport Antrop works with is KEEP – Traceability system for electrical and electronic products in a circular system. Electronic and electrical waste (e-waste) is one of the fastest-growing waste streams on the planet. Only a fraction of all this waste ends up in formal recycling facilities. This has devastating consequences for our planet and the health of people who take care of the waste. This is the background for Chalmers Industriteknik and, among others, Clas Ohlson, Dustin, and Lenovo running the Vinnova-funded project: KEEP. The project started in 2018 and as of now, a prototype has been developed. The next step is to carry out tests in real life, both in new production, sales, reuse, and recycling.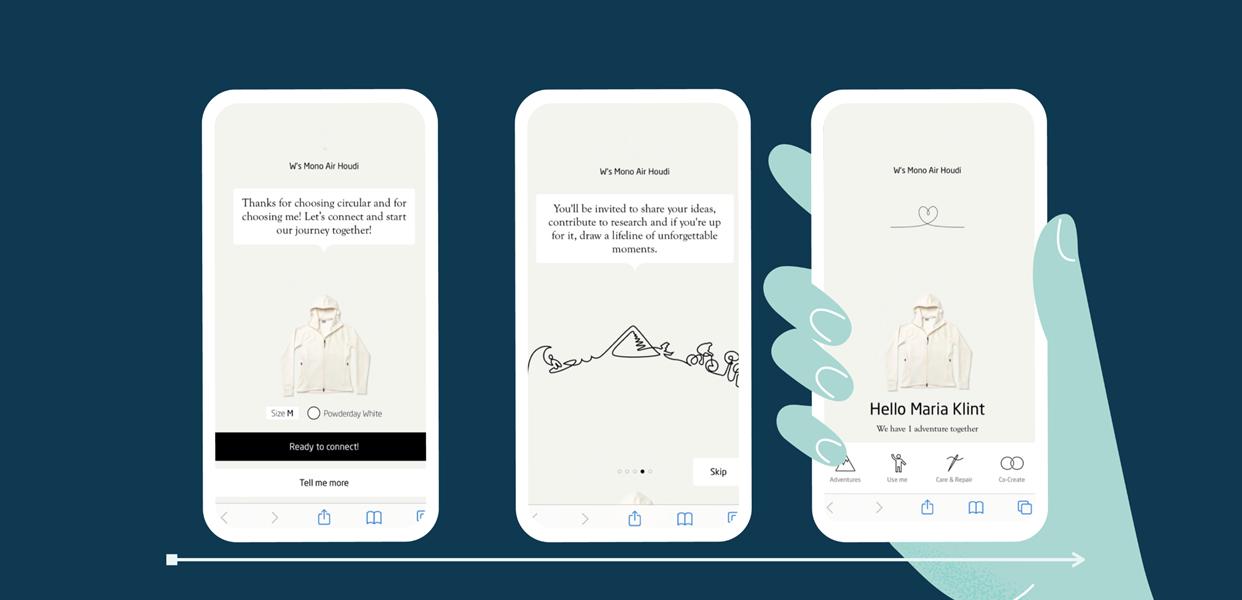 Are product passports the salvation of the fashion industry?
Another company that has come a long way in the work with product passports is the American company EON. EON was founded in 2015 to drive the transition to a circular trading system. With EON, new systems, incentives, and business models are created, which are crucial for a fair and profitable future. Their pilot project is called CircularID Protocol and is now being tested by the textile industry. Both H&M and the outdoor company Houdini are partners and during the summer of 2021, Antrop's tech partner Prototype worked together with Houdini to test EON's circular ID.
"We created a digital interface for the consumer, where the owner of a garment can add unique information along a timeline, and thus create added value to a product. It could, for example, be information such as that the garment has climbed a mountain." – Linda Almqvist, tech manager at Prototyp
Easier to do right with more knowledge
The work of creating product passports is ongoing and you can count on being able to track and get information about the history of your product, in the future. Something that will make it easier for all of us to become more circular.
– By working with real needs and user-friendliness, we can make it easier for consumers, manufacturers, and repairers to do the right thing. At Antrop, we look forward to being a part of it, says Maria Klint.
Facts about product passports
Digitalization can help improve access to information on the characteristics of products sold in the EU. An electronic product passport can, for example, provide information about a product's origin, composition, repair and disassembly options, and handling of end-of-life products. Increased information sharing about products and between actors in value chains will contribute to increased resource efficiency and circular economy.
Get in touch!